Surgical Services
Our surgeons perform surgeries in many areas, including:
Dental
Gastroenterology
General Surgery
Ophthalmology
Otolaryngology (ENT)
Oral
Podiatry (Foot Care)
Thoracic
Urology
Endoscopy Services
Endoscopy refers to a special technique for examining the inside of the body with a long flexible tube connected to a tiny video camera with a light on the end. Gastroenterologists, pulmonologists, or surgeons who are well-trained specialists in the use of the endoscope to diagnose and treat disease perform these procedures. Endoscopy allows the physician to directly visualize the gastrointestinal tract and respiratory system and is an aid in diagnosis.
Most endoscopic procedures are done on an outpatient basis and patients are able to complete their recovery in the comfort of their own home. Services include:
Esophagogastroduodenoscopy
Colonoscopy
Percutaneous Endoscopic Gastrostomy
Capsule Endoscopy
The endoscopy center was established in an effort to prevent numerous types of cancers and to diagnose and treat diseases through the most advanced endoscopy techniques available. Ultimately, the center will potentially save lives through preventive healthcare.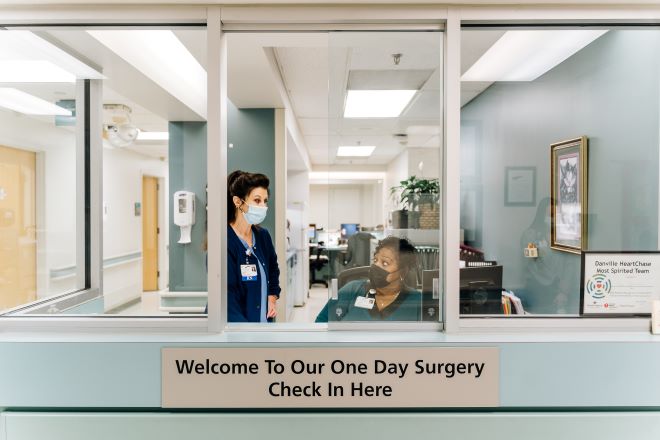 ---
TIF Procedure for GERD
Are you ready to eat the foods you want when you want? Resume a more active lifestyle?
Get a more restful night of sleep? Stop the expense and hassle of pills?
Sovah Health – Martinsville is excited to now offer the Transoral Incisionless Fundoplication (TIF) procedure for the treatment of moderate GERD. The TIF procedure is most appropriate for those suffering from GERD who:
Regularly experience troublesome symptoms of GERD
No longer respond adequately or are dissatisfied with pharmaceutical therapies
Are concerned about the adverse long-term effects of taking PPIs
Are considering surgical intervention but are concerned about the complication rate, mortality and potential side effects (e.g. gas bloat, dysphagia, inability to vomit) of laparoscopic antireflux surgery
Learn more - Whiteboard: What is the TIF procedure? from EndoGastric Solutions on Vimeo.
​If you're ready to be GERD-free, call 844.GO.SOVAH.