What is Cardiac Catheterization?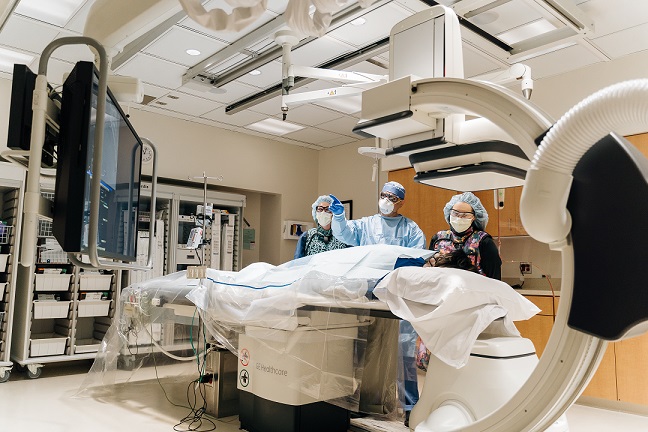 "Cardiac catheterization" is a general term for a group of procedures that are performed using this method, such as coronary angiography, as well as left ventricle angiography. One of the most common procedures performed in the Cath Lab is coronary angiography, which is similar to an x-ray and shows an external map of the arteries while contrast material is injected to examine the flow of blood and check for abnormalities such as build up due to plaque. Our physicians utilize the radial (wrist) artery entry whenever clinically appropriate, which allows for more patient comfort among other advantages.
The Cath Labs are also used to perform peripheral arteriography, angioplasty and stenting in the legs.
Once the catheter is in place, it can be used to perform a number of procedures including angioplasty and PCI (percutaneous coronary intervention) angiography. A list of procedures carried out in the Cath Lab includes:
Coronary Angiography or Coronary catheterization
Coronary Angioplasty or Percutaneous coronary intervention/PCI
Permanent and temporary pacemaker implantations
Atherectomy (Plaque Removal) of heavily calcified vessels
Left and right Sided pressure studies
Peripheral Angiography and Intervention
The Cath Lab also features Intravascular Ultrasound technology, or IVUS, which allows physicians to see vessels from the inside allowing more precise images and measurements to determine if and where a stent should be placed.
IFR (instantaneous wave-free ratio) is another advanced technology available in Sovah's Cath Lab. It is a guide wire-based tool that can accurately measure blood flow and help to assess the severity of a lesion in a vessel.
Accreditations
American College of Cardiology Chest Pain Center Accreditation
Our Danville and Martinsville campuses have both received Chest Pain Center accreditation from the American College of Cardiology. We are dedicated to providing our patients with the best heart care treatment available. As an accredited facility, we use the newest methods and best practices in heart care to ensure that our patients receive:
Right care at the right time to minimize or eliminate heart damage due to heart attack
Timely and accurate diagnoses to reduce the disruption to your life and get you back home as soon as possible
Help and communication to better understand how to respond to your heart emergencies
Improved quality of life after a heart episode
American College of Cardiology Cardiac Cath Lab Accreditation with PCI
The American College of Cardiology has recognized Sovah Health for its demonstrated expertise and commitment in treating patients who come to a cardiac cath lab for care, including diagnostic catheterizations and percutaneous coronary intervention (PCI) procedures. PCI is also known as coronary angioplasty. It is a non-surgical procedure that opens narrowed or blocked coronary arteries with a balloon to relieve symptoms of heart disease or reduce heart damage during or after a heart attack.
Hospitals that have proven exceptional competency in treating patients who require cardiac catheterization have standardized their assessment process for patients before undergoing catheterization to ensure quality and patient safety. They ensure that care in the procedure room for sedation, infection control, radiation safety, universal protocol, and time out procedures is fully coordinated. They have mastered the appropriate transfer to a cath recovery unit to better monitor and track complications, enhance physician-to-patient communication, patient family communication, discharge instructions and follow-up information.
American College of Cardiology Heart Failure Accreditation
If you or someone you care for has been diagnosed with heart failure, we can provide the tools to improve quality of life. Sovah Health has earned Advanced Heart Failure Accreditation from the American College of Cardiology. We were awarded the accreditation based on rigorous onsite review of the staff's ability to evaluate, diagnose and treat patients with heart failure through pre-hospital care, early stabilization, acute care, transitional care, clinical quality measures and more.
---
Want to schedule an appointment with one of our providers? Call 844-467-6824 or visit SovahHealth.com/find-a-doctor.