Pelvic Floor Disorder & Urinary Incontinence: Men and Women
Pelvic pain and incontinence can affect every aspect of a person's life, from their physical wellbeing to their emotional health.
Why choose Sovah Health for your pelvic floor therapy needs?
Our Services
Pelvic health therapists are ideal health professionals to treat pelvic muscle dysfunctions, as they have been trained to assess the musculoskeletal system and determine a treatment plan.
About Us
Our compassionate therapists understand the challenges associated with pelvic conditions. They specialize intreating pelvic floor dysfunctions and have received specific training in pelvic floor anatomy and conditions.
Our Mission
The goal of pelvic floor therapy is to ease your symptoms so that you can get back to your daily routine. This includes being able to control and enhance your quality of life. We address a person as a whole to increase function by making lifelong changes to get your pelvic health back on track.

What is pelvic floor therapy?
Pelvic floor rehabilitation is a non-surgical and post surgical approach to rehabilitation of dysfunction in the pelvis that contribute to the bowel, bladder, sexual health, and pain complaints. Patient's are evaluated using multi modal strategies with observation of the pelvic floor internal pelvic floor muscle evaluation, biofeedback, and functional tests. Approaches may include behavioral strategies, manual therapist, modalities, therapeutic exercise, education, and functional retraining.
Who needs pelvic floor therapy?
The types of patients and problems who benefit from pelvic floor therapy services may include:
Urinary incontinence
Stress urinary incontinence
Urgency urinary incontinence
Postural urinary incontinence
Nocturnal enuresis
Mixed urinary incontinence
Diastasis recti
Dysmenorrhea
Dyspareunia
Endometriosis
Vulvar pain
Internal cystitis
Chronic pelvic pain
Painful bladder syndrome
Constipation
Pelvic organ prolapse
Post/Peripartum pain and weakness
What will I do in pelvic floor therapy?
Pelvic floor therapy treatments may include:
Duration: 8-12 weeks at 2x per week
Bladder retraining
Pelvic muscle exercises
E-stim (as tolerated)
Manual therapy such as soft tissue mobilization
Patient education which includes: diet management, fluid management, medication analysis, behavior management, and risk assessment
For more information or to schedule an appointment, please call: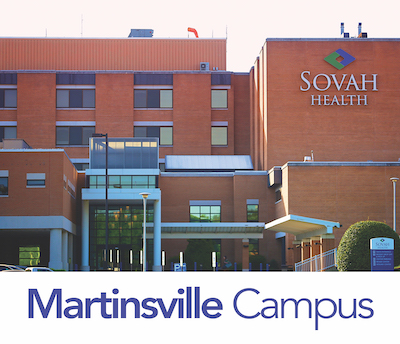 Sovah Rehabilitation Center - Martinsville
276.666.7590

Located on the first floor of the hospital. Patients may access the Center via the Sovah Rehabilitation Center entrance. Designated patient parking is available adjacent to the entrance