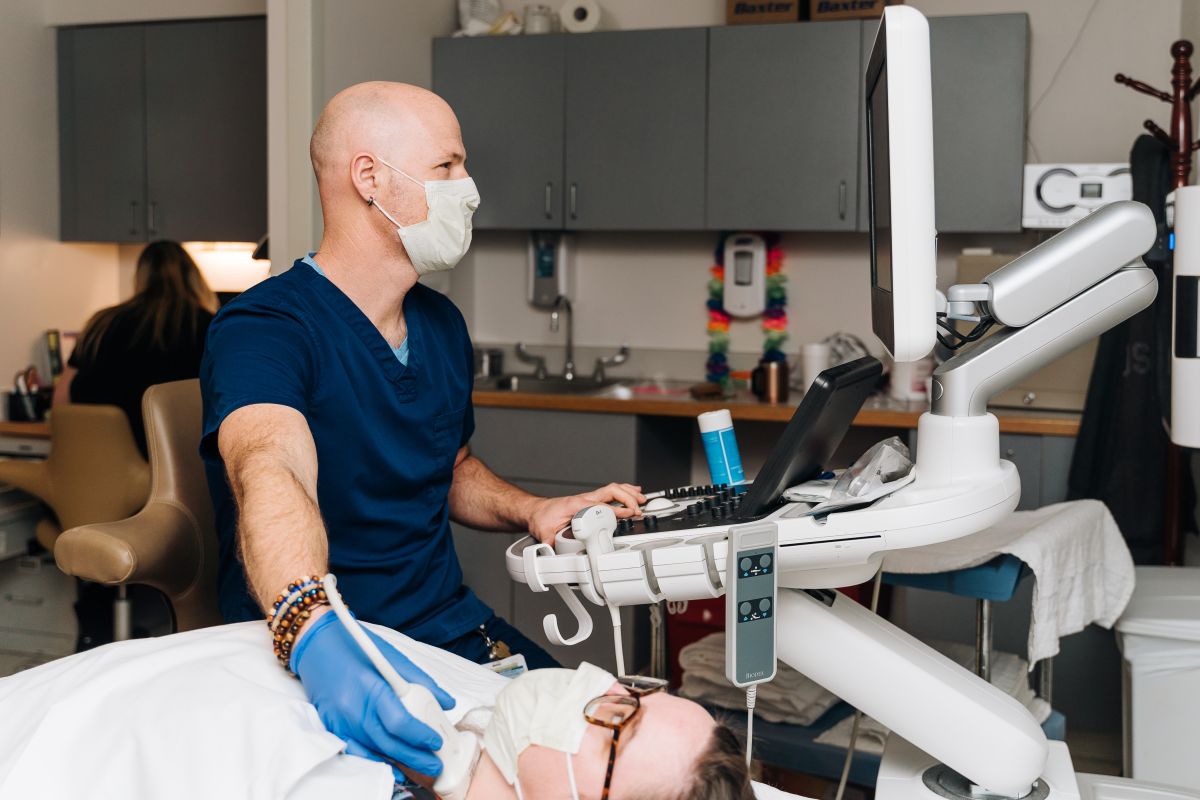 Thank you for visiting Sovah School of Health Professions, Sonography Program's web page!
Deadline for application is October 15, 2023.
The program is owned and operated by Sovah Health, with hospital campuses in Danville and Martinsville, Virginia.
Applicants:
The program is a full-time, 2-year program.
The program will require that students attend classroom and lab instruction as well as rotate to various approved medical facilities located within a 2-hour drive of the Danville campus. While primary rotations will be Monday – Friday, first-shift hours, some rotations will include evening and weekend hours. Clinical exposure to various healthcare facilities, imaging equipment, and sonography protocols is essential to prepare students for success.
Clinical Sites
Acceptance into this program is very competitive, and early application is encouraged.
Pre-requisite courses required prior to entry into both DMS Programs are:
ENG 111: English Composition I
BIO 141: Anatomy and Physiology I
BIO 142: Anatomy and Physiology II
PHY 100, 101 or 201: General College Physics
MTH 131, or MTH 161: Precalculus with Trigonometry or equivalent.
SDV 100: College Success Skills
Humanities electives (prefer an ethics course: PHI 220)
Social Science elective (prefer a psychology course: PSY 230)
All course pre-requisites must have a grade of a "C" or better for admission.
About the Program:
The General Sonography program opened in January 2021 due to the need of Sonographers within the Sovah community. Our program is considered a two-year, full time, hospital based program. Upon completion, graduates will earn an Associates Degree that is accredited by the Accrediting Bureau of Health Education Schools (ABHES). The school is certified to operate as an institution of higher education by the State Council of Higher Education for Virginia (SCHEV).
The Abdominal Extended Sonography, Obstetrics and Gynecology Sonography, and Vascular Sonography is accredited by the Commission on Accreditation of Allied Health Education Programs (9355 113th St. N, #7709, Seminole, FL 33775; 727.210.2350) upon the recommendation of the Joint Review Committee on Education in Diagnostic Medical Sonography.
Transferability of course work from the Sovah program, as with most other programs, is dependent upon the program to which you are considering your transfer. For specific transfer information, please contact the institution to which you are considering transfer.
To learn more about sonography and exciting career options, watch this video provided by the Society of Diagnostic Medical Sonography.
Admission to our program is very competitive, and enrollment is limited, therefore admission to our program is NOT guaranteed. Our students are evaluated on both academic and non-academic predictors of success, and the most qualified applicants will be scheduled for a personal interview with various program representatives. Scores from the application process as well as the interview will be used in the selection of our class. All information is kept strictly confidential and selections will be made in accordance with nondiscriminatory policies.
Those who are accepted will be required to complete and pass a physical examination and a drug screening. Fee schedules may be found on our web site under "Tuition & Fees".

After completion of this program, while you will not be guaranteed a job, placement is very likely due to the number of job openings both locally and nationally. According to the U.S. Bureau of Labor Statistics, the field of medical sonography is projected to grow 19.5% between 2018 and 2028, much higher than the growth rate of many other occupations.
If you are interested in applying for this program please complete the application located below. Should you have questions, please feel free to call 434-799-4548 and ask for the School of Health Professions Program Director or Sonography Program Director or email Elaine Nichols at Elaine.Nichols@lpnt.net. We look forward to hearing from you.