DAISY Award Honoree Named at Sovah Health - Martinsville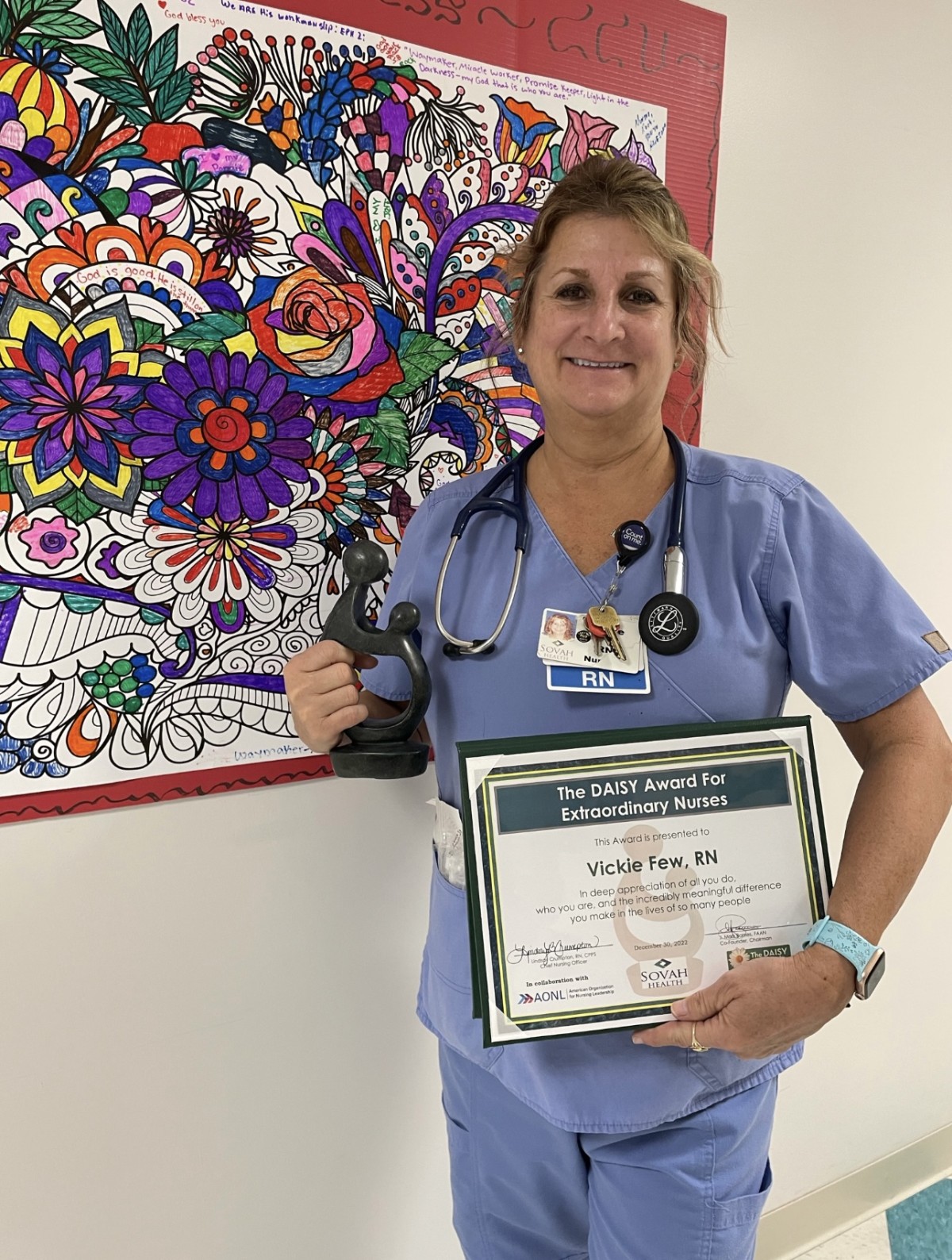 Vickie Few, RN of Sovah Health – Martinsville was honored today with The DAISY Award® For Extraordinary Nurses. The award is part of the DAISY Foundation's programs to recognize the super-human efforts nurses perform every day.
Vickie is part of the nursing float pool, as well as a member of the Recruitment and Retention Council, at Sovah Health – Martinsville and was nominated for the award by 4 different patients who credit the nurse for being polite, caring, and informative. "She showed herself to be an excellent, compassionate nurse on the 5th floor. As I watched her throughout the day, she was polite and informative to all her patients and family members. She is so pleasant and simply an outstanding nurse." Vickie takes time to connect with her patients, is very proactive in her care, and always goes the extra mile to help them feel at ease. Moments like this truly highlight what an extraordinary nurse Vickie is.
The not-for-profit DAISY Foundation is based in Glen Ellen, CA, and was established by family members in memory of J. Patrick Barnes. Patrick died at the age of 33 in late 1999 from complications of Idiopathic Thrombocytopenic Purpura (ITP), a little known but not uncommon auto-immune disease. The care Patrick and his family received from nurses while he was ill inspired this unique means of thanking nurses for making a profound difference in the lives of their patients and patient families.
"Vickie has made a great impact on her patients, and I was pleased to present the DAISY award to her this morning," said Lindsay Crumpton, Chief Nursing Officer at Sovah Health – Martinsville. "She is an exceptional nurse, and it is shown through her hard work and dedication every day. Vickie takes the time to listen to her patients' needs and helps them understand the care they are receiving. We are so proud of her, as well as all our nurses here at Sovah Health that continuously dedicate themselves to care for our community.
To nominate a Sovah Health nurse for the DAISY Award, visit our website at SovahHealth.com/daisy-award.
Read All Posts