Sovah Health - Martinsville Announces BEE Award Winner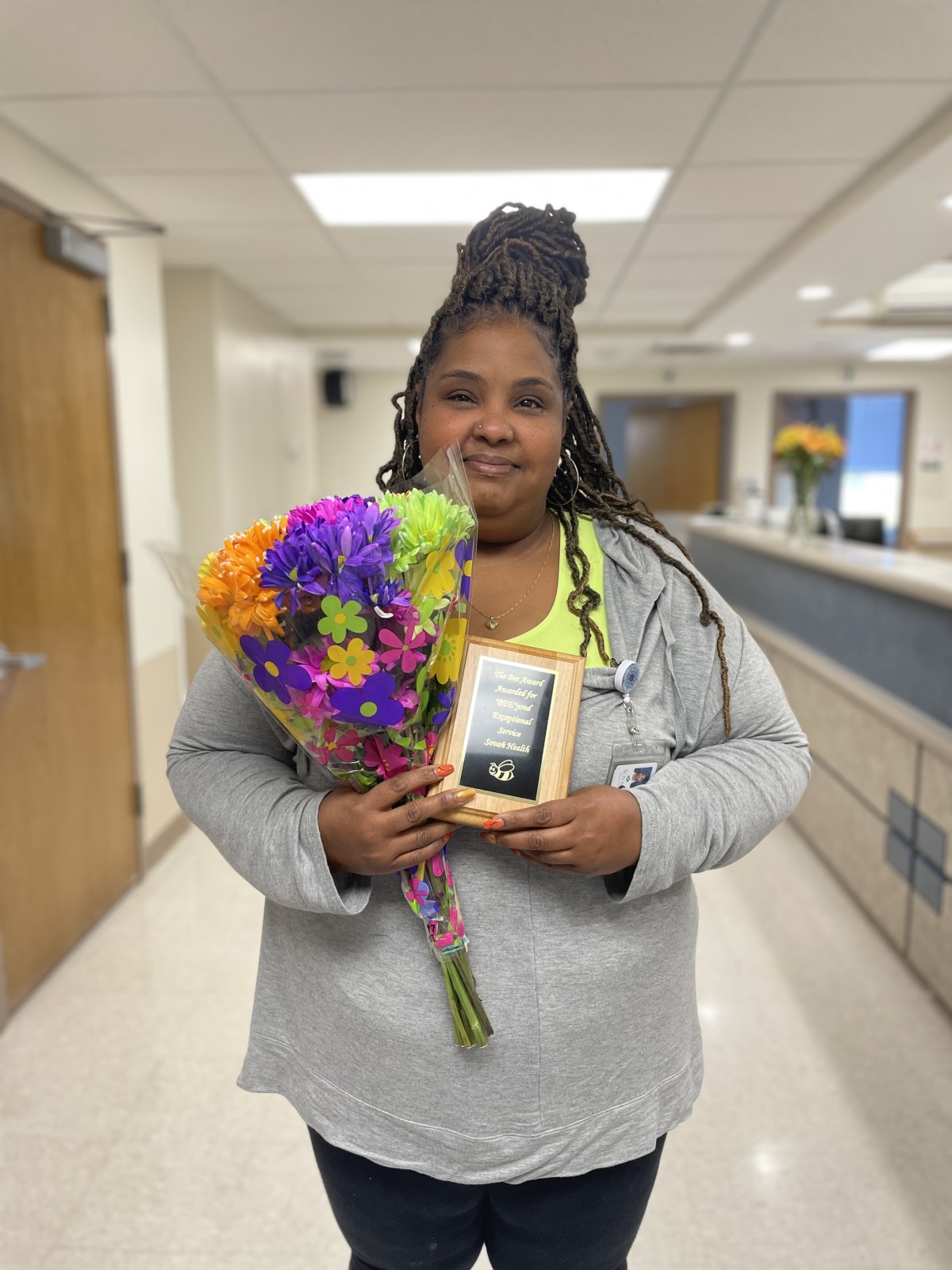 Teadra Adams, Telemetry Monitor Tech, of Sovah Health – Martinsville was honored today with The BEE Award for extraordinary staff members. The BEE Award is a way to say thank you to a staff member of Sovah Health who has provided a BEE-yond Exceptional Experience.
Teadra works as a Telemetry Monitor Technician and has made a tremendous impact on our patients and organization. She was nominated for the award by a co-worker that stated Teadra goes above and beyond her role to help all departments in the facility. She stated Teadra performs many tasks that are not part of her normal job duties with an eagerness to help. "Teadra delivers meal trays, feeds patients, and helps nurses run specimens to the lab. She has also volunteered to help document vital signs in the computer. None of these things are part of her normal responsibilities." The staff member said that Teadra is a kind person who is a wonderful asset to the floor and a joy to work with.
The BEE Award was created to honor support staff members who continuously go above and beyond for patients and their families. Along with the DAISY Award that recognizes our nursing staff, the BEE Award recognizes non-nursing staff members that provide exceptional teamwork. Our BEE Award honorees demonstrate the petal principles and portray excellence through expertise and compassionate care.
The petal principles include showing passion in the care they provide every day, establishing a connection with patients and their support system, teamwork, always creating the best experience, demonstrates a love for their job, and shows respect. Each honoree will be recognized at a public ceremony in his/her department and will receive a certificate of achievement, a plaque, pin to wear on their badge, and refreshments to share with colleagues.
"Teadra is the perfect example of going above and beyond to ensure our patients receive excellent care," said Lindsay Crumpton, Chief Nursing Officer at Sovah Health – Martinsville. "We are so thankful to have her on our team where she truly makes a difference in living out our mission. As shown today, she makes a huge impact in the lives of our patients and contributes to a positive healing environment. It was an honor to present her with the BEE Award for employee excellence. She truly deserves it!"
To nominate a Sovah Health employee for the BEE Award, visit our website at SovahHealth.com/the-bee-award.
Read All Posts